History brought back to life
McKenzie Guest House is a historic landmark that was built by Victor Bredt in 1907. The main building is the original two-story hotel that once welcomed stagecoaches and offered lodging and meals to country customers for 25 cents.
Bredt sold the hotel to a couple, Luther Mitchell and Gertrude Anna Ryan Wallace, who had traveled from a plantation in Virginia, then settled in Marble Falls. Their business as inn keepers thrived in the small but bustling town.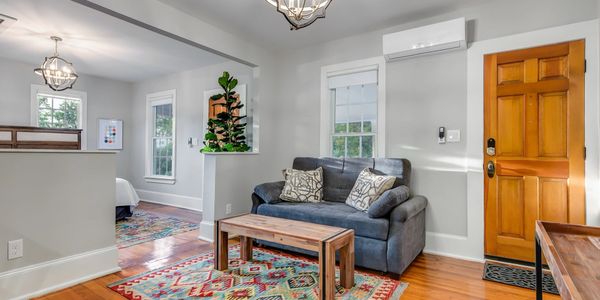 After the passing of Gertrude, the hotel operation ended, and the building became the private residence of their youngest child, Margaret Wallace, for many years. In 1976, Judge Ed Yturri and his wife, Dottie, bought the home with plans to transform it into either an artist's co-op or the area's first library thrift store, but they continued to use it solely as a home. In the early 1980s, the Brown family purchased the home and turned the 13-room, 2-bath house into a five-unit apartment building. The property continued to change ownership while operating as an apartment building, until taking on an extensive remodel provided by Phil and Rebecca Gatton in 2002, who converted the building into the Wallace Guest House Bed and Breakfast.
The house flipped ownership again in 2012, before the most recent acquisition by the McCormack family of Austin, Texas, in 2018. They jumped at the opportunity to purchase a property in an area that has many wonderful memories dating back to their early childhood—much of which was spent enjoying the surrounding lakes and recreational parks. Almost a century of history has been restored and the entire house completely renovated to accommodate the most extraordinary tastes. The deep porches that surround the house, outfitted with rocking chairs and dining tables, were maintained to provide the simple pleasures enjoyed a century ago.
Meet the Owners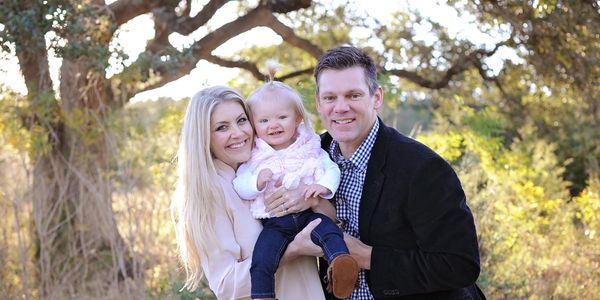 Matt and Lindsay McCormack purchased the boutique hotel in mid-2018. They were drawn to the beautiful architecture, small-town charm, and their childhood attachment to the area and committed to the hard work needed to update and restore the house that had fallen out of date and was succumbing to a lack of proper care. They want to keep the charm alive, and they provided new life for the old house so that new memories could be created and its new history could be passed on to their daughter, McKenzie.
Matt, Lindsay, and McKenzie would love to take you on a tour through the newly updated suites and of the grounds, with large live oaks, beautiful lawns, and a dedicated playscape to watch the sun set each evening. During the summer and fall seasons, you can enjoy the grounds getting rained upon by pink, purple, red, and white petals from the many blooming crepe myrtles that thrive on the property.